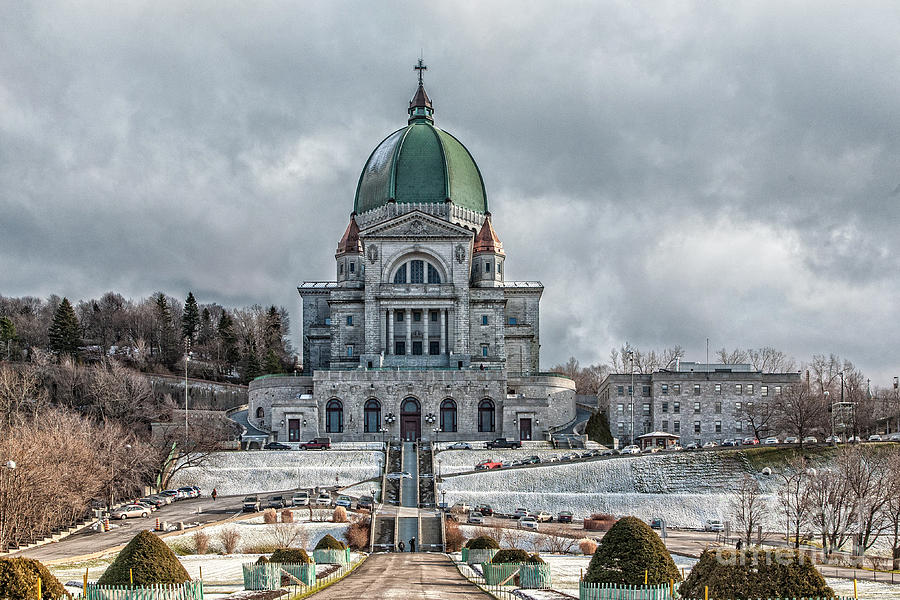 Saint Joseph Oratory
Saint Joseph's Oratory of Mont Royal, is a Roman Catholic basilica on the west slope of Mount Royal in Montreal, Quebec, Canada. Camera: Canon EOS 5D; Lens: Canon EF-24-105mm f/4.0L IS USM; f/8.0 @ 1/125 sec; ISO 400; Focal length: 40mm
In 1904, Saint André Bessette, CSC, began the construction of a small chapel on the side of the mountain near Notre Dame College. Soon the growing number of visitors made it too small. Even though it was enlarged, a larger church was needed and in 1917 one was completed – it is called the Crypt, and has a seating capacity of 1,000. In 1924, the construction of the basilica was inaugurated; it was finally completed in 1967. The Oratory's dome is the third-largest of its kind in the world after the Basilica of Our Lady of Peace of Yamoussoukro in the Ivory Coast and Saint Peter's Basilica in Rome, and the church is the largest in Canada.
The basilica is dedicated to Saint Joseph, to whom Brother André credited all his reported miracles. These were mostly related to some kind of healing power, and many pilgrims (handicapped, blind, ill, etc.) poured into his Basilica, including numerous Protestants. On display in the basilica is a wall covered with thousands of crutches from those who came to the basilica and were allegedly healed.
(Source:
Wikipedia
)
Clicking on the above image will open a new tab that will bring you to that image's page on my Pixels site where one could, if they so desired, purchase the image on a number of products ranging from Wall Art to cellphone cases to Home decor.