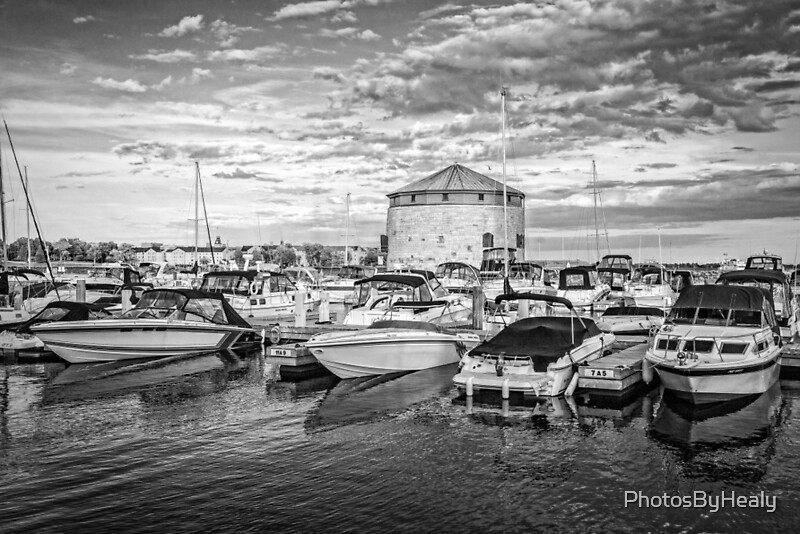 Shoal Tower
Shoal Tower National Historic Site of Canada – Kingston Harbour, Kingston, Ontario.
Camera: Canon EOS 5D; Lens: Canon EF-24-105mm f/4.0L IS USM; f/6.3 @ 1/100 sec; ISO 200; Focal Length: 35mm
Shoal Tower is a Martello tower located in the harbour (Confederation Basin) of Kingston, Ontario, Canada, directly opposite Kingston City Hall. It is one of four such towers built in the 1840s to protect Kingston's harbour and the entrance to the Rideau Canal. Built in 1847, this limestone tower is 11 m high and 16.5 m in diameter. The guns of Shoal Tower defended the approaches of Kingston Harbour. A dispute between Great Britain and the United States over the boundary between British Columbia and Oregon that threatened to lead to war and to the invasion of Canada (see Oregon crisis) prompted their construction. Eventually Shoal Tower was abandoned.
It was designated a National Historic Site of Canada in 1930, and is part of the Kingston Fortifications National Historic Site.
Click on the image above to purchase it from my RedBubble site on a number of products ranging from Wall Art to Phone Cases and Home decor and more.